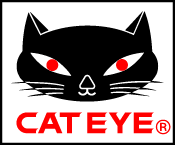 2. Checking package contents
3. Install Cateye Cycling™
4. Pairing a smart computer with a smartphone
The following section explains how to format (initialize) the smart computer and then pair with a smartphone.
• Pairing is necessary to use a smart computer or a sensor.
• Do not pair sensors at a race venue or in similar locations where there are a lot of other users.
Doing so may cause the smart computer to be paired with another device.
​Smart computer
1. Pull free the smart computer's insulation sheet.
After pulling out the insulation sheet, return the battery holder and battery cover to their previous locations.
​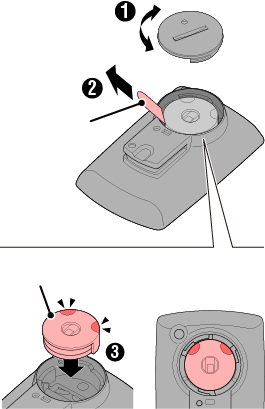 OpenCloseInsulation sheetBattery holder
​
2. Press the AC button on the smart computer.
​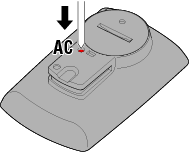 The initialization screen is displayed.
​
3. Press MODE once to cause [FORMAT] to blink, and then press MODE for 1 second.
All data will be deleted and smart computer will be reset to factory default settings.




The display switches to the smartphone search screen.
​Smartphone
​
4. From

(MENU) at the top left of the screen, turn on [Connect] and tap [Device].
​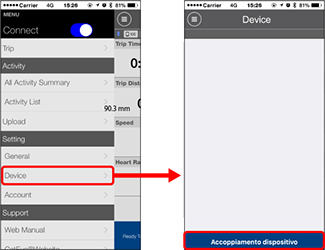 Tap [Pair to Device] to start pairing.
When Cateye Cycling™ detects smart computer, a message is displayed on the smartphone.
​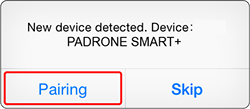 Tap [Pairing] to complete pairing.
* Tap [PADRONE SMART+] to display the settings configuration screen for the various smart computer settings.
​

Device
Smart computer pairing is now complete.
If you have sensors or a DI2 system, proceed to "Pairing a sensor or a Shimano DI2 system with a smartphone". If you do not have sensors, skip to "Mounting the bracket".
5. Pairing a sensor or a Shimano DI2 system with a smartphone (If you have sensors or a DI2 system)
7. Mounting the speed (cadence) sensor (ISC-12)
(Optional)
8. Wearing the heart rate sensor (HR-12)
(Optional)