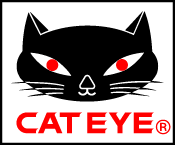 This is the Cateye Cycling™ home screen.
From this screen you can start, pause, and finish measurement.
* Starting, pausing, and finishing measurement can be done remotely from the smart computer unit.
* Measurement data will be displayed as [--] if the sensor signal cannot be received.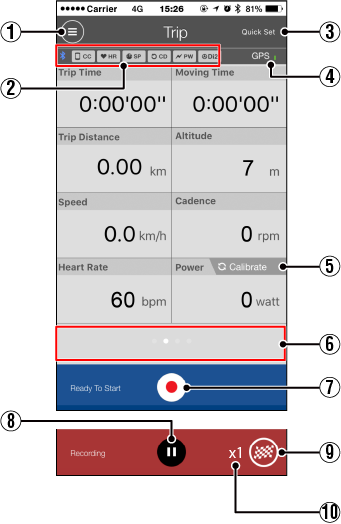 ​

Menu button
Displays the menu.

Device connection status icon
Displays connection status with other devices.
・

(Smart computer)
・

(Heart rate sensor)
・

(Speed sensor)
・

(Cadence sensor)
・

(Power sensor)
・

(DI2)
* A grayed-out icon indicates an unconnected sensor.
* Speed (cadence) sensors (ISC) display both

and

.

Quick Set
The Quick Set function allows various measurement functions to be turned ON/OFF or a goal to be set in simple navigation quickly.

​

GPS icon
Indicates GPS signal reception status.

​

Calibration button
Returns the power sensor measurement to 0.
​

Power sensor calibration

Switch display mode
Swiping the screen switches to the map display, graph display, and lap display, letting you check where you have been and view measurement data.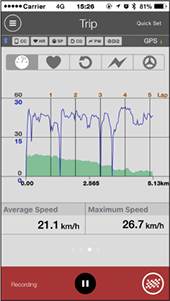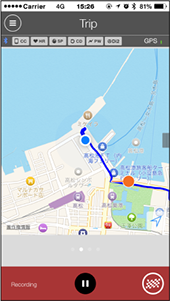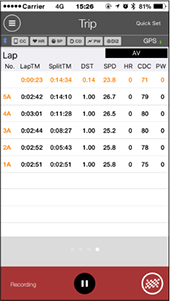 * Tap the screen on the lap display to switch between AV (average value) and MX (maximum value).
* Data recorded using Auto Lap will be shown with an "A" after the number.

​

Start measurement button
Starts measurement.
* Not available if speed signal or GPS signal cannot be received.

​

Pause button
Pauses measurement.

​

Flag button
Finishes measurement.
Switches to the trip upload screen.
​

Saving and uploading trips

Number of temporarily saved trips
Displays the number of temporarily saved trips.
The maximum number of trips that can be saved temporarily is 30. If this number is exceeded, the icon changes to [Full] and it is not possible to temporarily save any more trips. It is recommended that trip data is saved and uploaded regularly.