This section explains how to configure various measurement settings.
​Smartphone
​
1. Tap

(MENU) and then [General].
​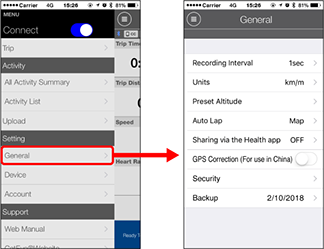 • Recording Interval
Selects the interval at which the log is recorded.
• Units
Selects the measurement unit.
• Preset Altitude
Applies a preset to the altitude of a specified position such as your home.
Turning Preset Altitude ON will correct the altitude at the start point of the measurement, improving the reliability of the altitude measurement.
* The iPhone and other smartphones with high-accuracy altitude measurement capabilities do not require an altitude preset.
• Auto Lap
Selects which method—distance, time, or map—to use for automatic lap input.
* Designating a point on the map:
To designate a point, press and hold on the desired location on the map.
• Sharing via the Health app (iPhone Only)
Sends measurement data to the iPhone's healthcare app.
• GPS Correction (iPhone Only)
[GPS Correction] is a function for correcting map position offsets in China.
In countries other than China, turning this function ON results in offset route positions being displayed in the activity list. Turning this function OFF corrects the offset positions.
• Security
This function detects when a previously connected smart computer is disconnected or when a sensor is in operation to notify users of problems when away from the bicycle.
The function only works when Mirror Mode measurement is paused, and notifications are sent directly to the smartphone.
• Disconnect Computer: A notification is sent when communication between a smart computer and the smartphone is interrupted.
• Sensor Operation: A notification is sent when any sensor mounted on the bicycle operates.
• Backup
Create a backup of the activity list.
Creating a backup allows users to import their most recent activity list when reinstalling Cateye Cycling™ or when changing your smartphone model.
See "Frequently Asked Questions" for details.