SYNC WEARABLE
The enhanced visibility of CatEyeSYNC™ in a wearable light.
FEATURE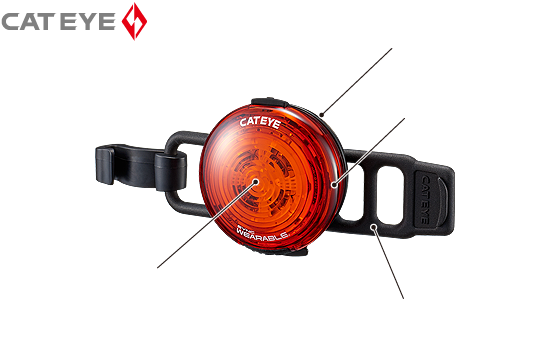 /

text
CLOSE

[SL-NW100]
CatEyeSYNC™ - ONE touch control -Turn one light on and all your CatEyeSYNC™ lights come on.
Using wireless technology, CatEyeSYNC™ lights provide the ease of synchronizing all lights to operate as one.
Check battery levels, customize modes, set brake mode and synchronize flash pattern preferences using your Smartphone.
Simple and superior 360-degree visibility is one touch away with up to 7 lights synced to operate as one.
(the other CatEyeSYNC™ light options that can be added to your SYNC Wearable system are SYNC Core and SYNC Kinetic.)
When used with the other lights from the CatEyeSYNC™ family, SYNC Wearable gives you an extra way to be seen, day or night. Using the mobile app, SYNC Wearable can be synchronized with SYNC Core and SYNC Kinetic for 360-degree visibility.
Check out CatEyeSYNC™ website!
Rechargeable wearable safety light
Clip-on bracket for easy installation to backpacks, saddle bags or clothing
Rubber strap bike mount included
Excellent daytime visibility in Daytime HyperFlash mode
Group Ride mode eye-friendly to team riders behind
Superior side visibility
OptiCube™ lens technology
Lithium-ion polymer rechargeable battery
USB rechargeable (Micro-USB cable included)
Low battery indicator
6 modes *Charging time: 2.5h
Mode memory function
Battery Auto Save (The mode automatically changes to flashing when the battery power gets low)

*The smartphone CatEyeSYNC™ app is required to pair the lights. Before you purchase, be sure to check to see if your smartphone model is compatible. CatEyeSYNC™ Compatible Device List
PC or Mac with internet connection is required for firmware update of the CatEyeSYNC™ lights.
---
Synchronize all SYNC lights
One touch turns all lights on/off
Synchronize light modes and flashing timing for enhanced visibility (SYNC Wearable, SYNC Kinetic)
Synchronized Kinetic mode for dynamic visibility (when used with SYNC Kinetic)
*Automatically turns on with 50 lumen brightness when bike deceleration is detected.
Control with smartphone app
- Pair the lights (up to seven lights)
- Turn on/off light mode synchronization
- View remaining battery level
- Turn on/off the lights
- Turn on/off synchronization with other lights
- Find me function lets the light flashing by tapping the button on app
---
Firmware Updater for CatEyeSYNC™ Download

※Please make sure the light is fully charged before updating the firmware.
System requirements:
・Windows 7 / 8 / 8.1 / 10
・Mac OS 10.10 or later※About macOS Catalina (10.15)
※Design and specifications are subject to change without notice.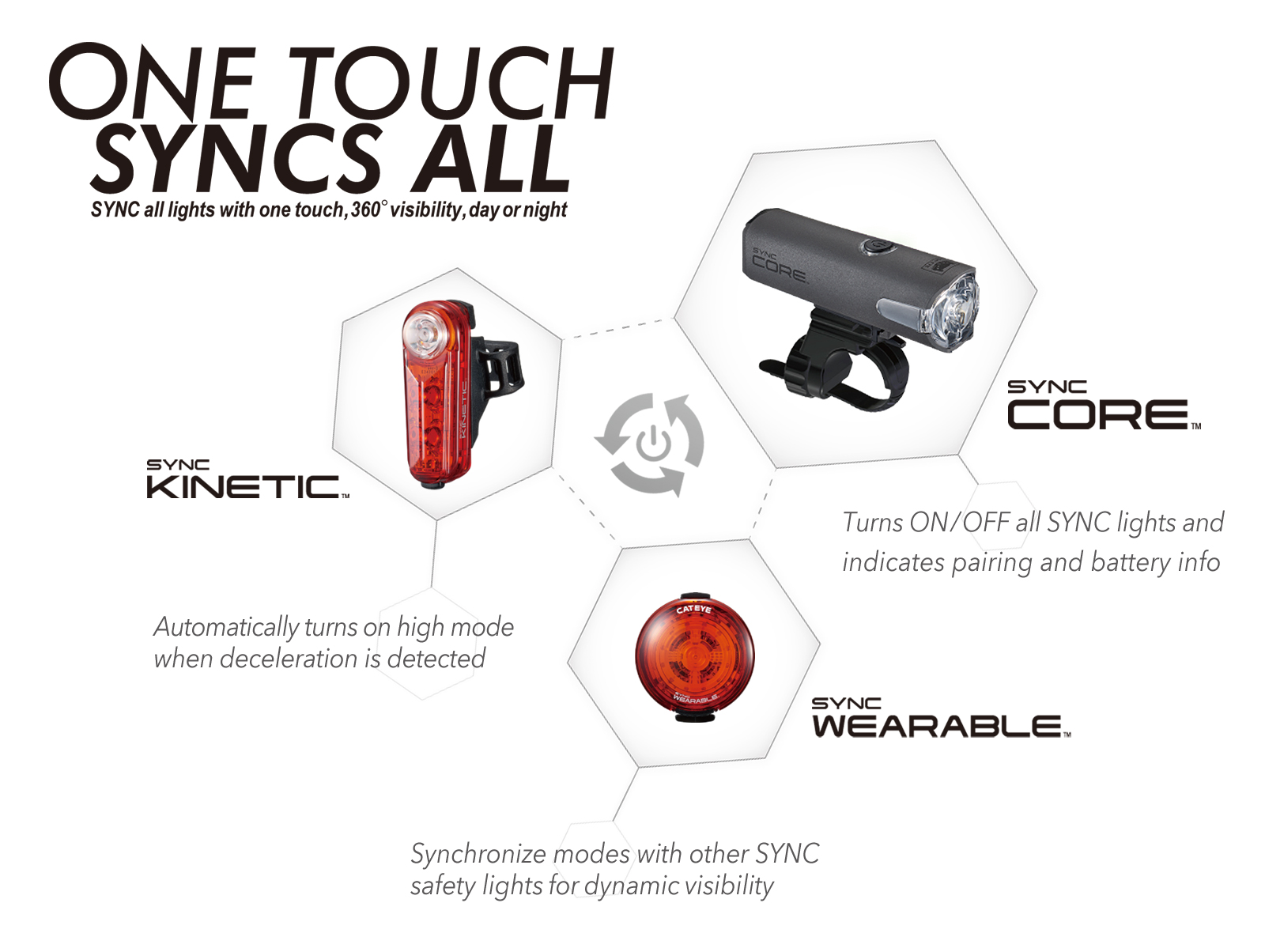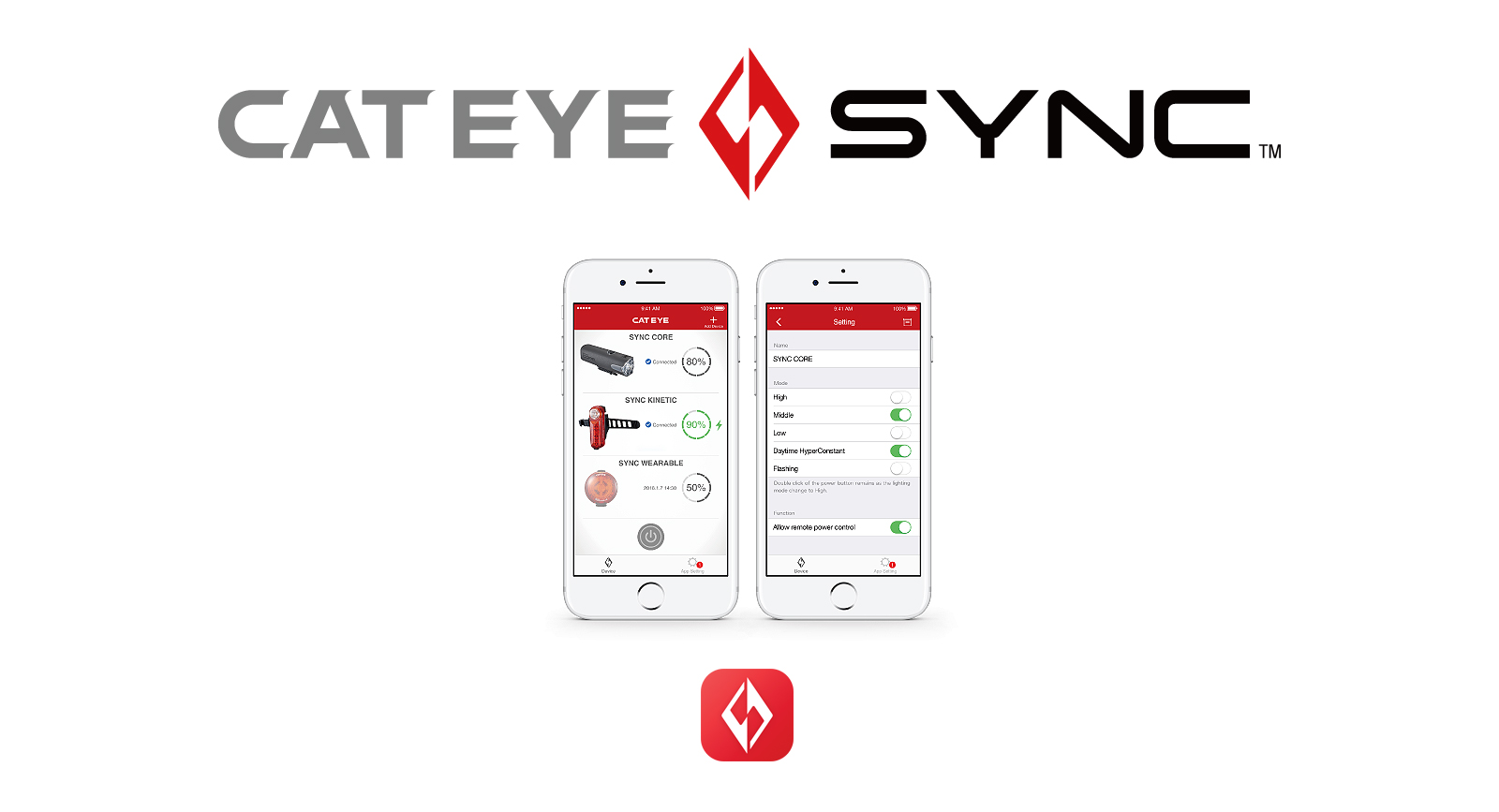 Tech Specs
Dimension:

45.5 x 44 x 20 mm
Weight:

21 g
Light source:

COB LED
Battery:

Lithium Polymer rechargeable battery
Runtime:

High(30 lumens):1.5 hrs
Low(2 lumens):18 hrs
Flashing(50 lumens):45 hrs
Rapid(50 lumens):16 hrs
Group Ride(50 lumens):12 hrs
Daytime HyperFlash(50 lumens):25 hrs

*When synchronized Kinetic mode is enabled 60 times per hour (when used with SYNC Kinetic)
High(30 lumens):1.4 hrs
Low(2 lumens):6 hrs
Flashing(50 lumens):7 hrs
Rapid(50 lumens):5 hrs
Group Ride(50 lumens):5 hrs
Daytime HyperFlash(50 lumens):6 hrs
Recharge time:

2.5 hrs (USB recharge)
Mount size:

Clip bracket, Universal Band (φ26-32mm)
Water resistant:

IPX4
Other:

Battery auto save, Low battery indicator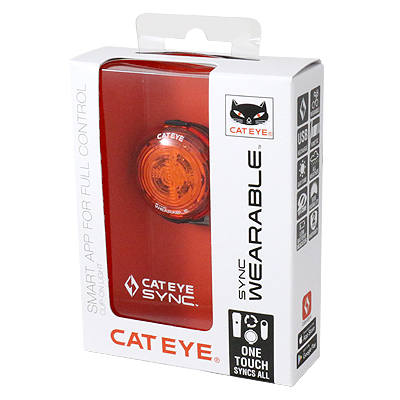 Manual