GVOLT50
Compact, rechargeable StVZO headlight with 50Lux illumination.
FEATURE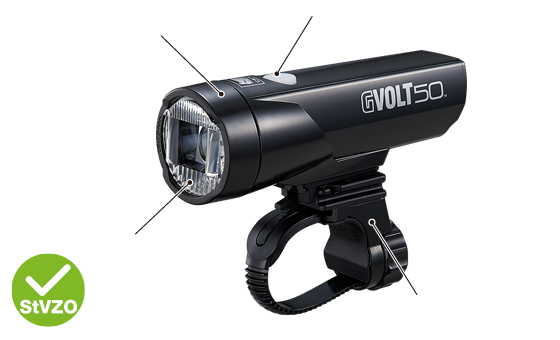 /

text
CLOSE

[HL-EL550G-RC]
50Lux rechargeable headlight meeting StVZO
Regulated beam
Micro USB recharge
Battery indicator
Mode memory function
Compact body with Li-ion rechargeable battery
2 light modes (High 3.5h / Low 19h) * Charging time: Approx. 6h
FlexTight™ H-34N bracket
Die kompakte GVolt50 ist ein per USB aufladbares Frontlicht mit beeindruckenden 50 Lux und cleverster Ausleuchtung, die durch die Vereinigung vier verschiedener Optiken in nur einer kleiner Linse erreicht wurde.. Die 50 Lux werden von einer einzigen LED ausgestrahlt. Dieses Licht beinhaltet zwei Einstellungen: Hoch und Niedrig. Mit 3,5 Stunden Laufzeit auf hochster Stufe, bringt dich die GVolt50 von der Fahrbahn auf den Trail.
※Design and specifications are subject to change without notice.
Beam Chart
You can compare two lights side by side. Move the centerline to the right or left to adjust the area. Click on mode button to change modes.
Tech Specs
Dimension:

36.0 x 106.0 x 44.0 mm
Weight:

92g (with battery)
Run time:

High - 50Lux: approx 3.5hrs
Low - 10Lux: approx 19hrs
* Average runtime at 20℃.
Battery:

Li-ion rechargeable battery (3.6V-2200mAh)
Recharge time:

approx 6 hrs
Recharge/discharge number of times:

about 300 times(until the rated capacity drops to 70%)
Water resistant:

IPX4
Other:

K-No. 1190
Low battery indicator, lighting mode memory function.