AMPP200 & ORB RECHARGEABLE
COMBO KIT
/

text
CLOSE

[HL-EL042RC_SL-LD160RC-R]
[AMPP200]
200 lumen USB rechargeable light with excellent side visibility. A versatile rubber strap allows for quick and easy attachment/removal from the handlebar.
Compact rechargeable headlight (200 lm)
Easy to attach and remove, new rubber strap mount
Excellent side visibility
Low battery indicator
USB rechargeable (Micro-USB cable included)
Mode memory function
Three light modes (High / Low / Flashing)
Turns on Flashing mode with double-click of power button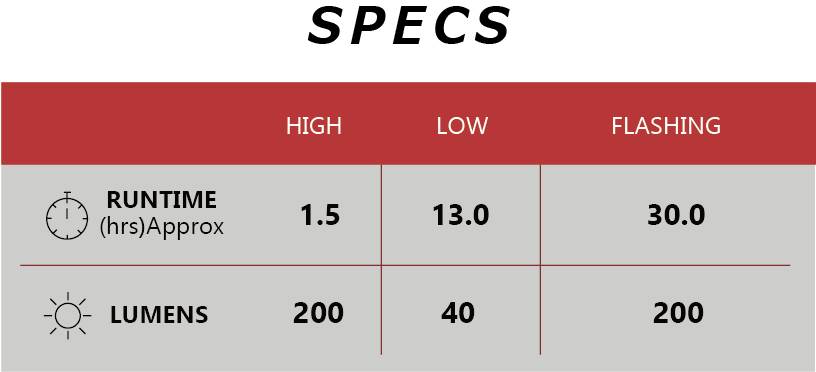 [ORB RECHARGEABLE]
Look no further than the ORB rear light. It's compact, lightweight and neat. With varying flashing modes, the ORB Rechargeable helps you to be seen out on the road.
Lens functions as push-button
USB rechargeable
3 modes *Charging time: 3.5h
Robust aluminum body
Versatile rubber strap mount

※Design and specifications are subject to change without notice.
Tech Specs
Dimension:

[AMPP200] 86 x 35 x 33mm (excluding the rubber strap)
[ORB RECHARGEABLE] φ27 x 27 mm
Weight:

[AMPP200] 62 grams (light unit and battery)
[ORB RECHARGEABLE] 25 g (light unit and battery)
Light source:

[AMPP200] High intensity white LED X1
[ORB RECHARGEABLE] Red LED x1
Run time:

[AMPP200]
High mode 200 lumens:approx 1.5hrs
Low mode 40 lumens:approx 13hrs
Flashing mode 200 lumens:approx 30hrs

[ORB RECHARGEABLE]
Rapid flashing :approx 5 hrs
Slow flashing :approx 5 hrs
Constant :approx 2.5 hrs
Battery:

[AMPP200] Li-ion rechargeable battery (3.7V-800mAh)
[ORB RECHARGEABLE] Lithium Polymer rechargeable battery (70mA)
Recharge time:

[AMPP200] approx 2.5hrs (0.5A)
[ORB RECHARGEABLE] approx 3.5 hrs (USB2.0)
Mount size:

[AMPP200] φ22.0~35.0mm
[ORB RECHARGEABLE] φ22.0~32.0mm
Recharge/discharge number of times:

about 300 times(until the rated capacity drops to 70%)
Water resistant:

[AMPP200] IPX4
[ORB RECHARGEABLE] IPX4
Other:

[AMPP200]
Low battery indicator, lighting mode memory function,