HL-EL135 & OMNI 3 & VELO WIRELESS
COMBO KIT
/

text
CLOSE

[GS-17]
[HL-EL135]
The HL-EL135 with three LEDs and OptiCube™ lens technology for a wider, 150 candlepower beam is the perfect everyday commuter safety light.
3 white LEDs
AA alkaline battery x 2
2 light modes
FlexTight™ H-34N bracket
[OMNI3]
The Omni 3 rear light provides 360 degrees of visibility and CatEye exclusive FlexTight bracket and included clothing clip allow you to easily attach the light anywhere you'd like.
3 LEDs
360 degree visibility
Wide beam
OMNI directional technology and OptiCube™ lens technology
AAA alkaline battery x 2
3 modes
Mode memory function
FlexTight™ SP-11 bracket (ø12-32mm) and Clothing clip included
Snap System™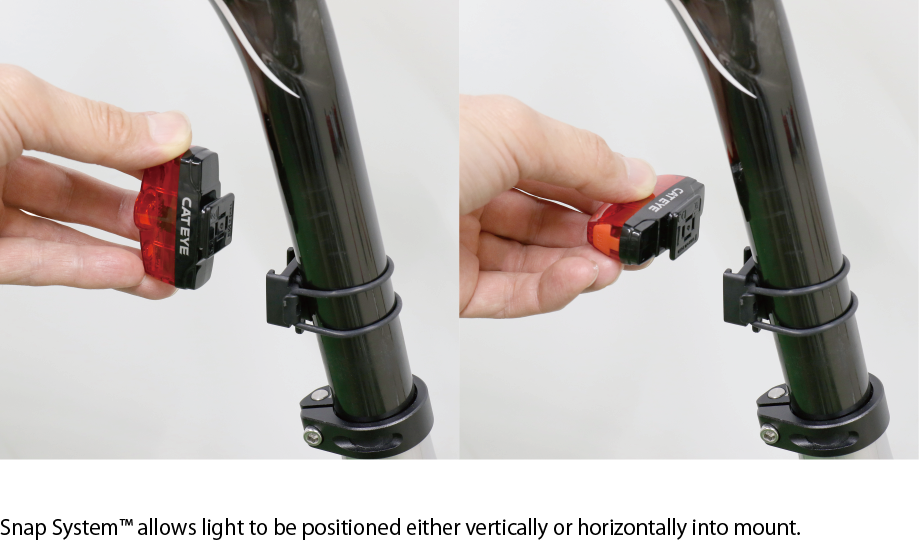 [VELO WIRELESS]
The Velo Wireless now packs even more punch with a programmable odometer and menu screen. Installs easily on almost any bike, including 27.5 and 29'ers.
Functions
Current / average / maximum speed
Trip distance
Total distance
Elapsed time
Clock
Calorie consumption
Features
Analog wireless
Pace arrow
Simple tire size
Auto start / stop
Programmable odometer
Menu screen to change setting
Zip tie bracket
※Design and specifications are subject to change without notice.
Tech Specs
Dimension:

[HL-EL135] 84.0 X 36.0 X 26.5mm
[OMNI3] 36.0 X 75.0 X 21.9mm
Weight:

[HL-EL135] 94 g (with bracket and batteries)
[OMNI3] 41.6 g (light unit and battery)
Light source:

[HL-EL135] Φ5mm white LED X3
[OMNI3] Red LED X3
Light output:

[HL-EL135] 150+cd
Battery:

[HL-EL135] AA alkaline battery X2
[OMNI3] AAA alkaline battery X2
Runtime:

[HL-EL135] 80hrs in constant mode and 320 hrs in flashing mode
[OMNI3] Approx 100hrs in constant, 150hrs in flashing, and 200hrs in rapid mode
Mount size:

[HL-EL135] 22.0~35.0mm
[OMNI3] φ12.0~32.0mm (FlexTight SP-11)
Water resistant:

[OMNI3] IPX4
Other:

[OMNI3] Clothing clip included
:
[Velo Wireless] Current speed:

0.0(4.0)~105.9 km/h [0.0 (3.0) - 65.9 mph]
[Velo Wireless] Elapsed time:

0:00'00"~9:59'59"
[Velo Wireless] Trip distance:

0.00~999.99 km [mile]
[Velo Wireless] Average speed:

0.0~105.9 km/h [0.0 - 65.9 mph]
[Velo Wireless] Maximum speed:

0.0(4.0)~105.9 km/h [0.0(3.0) - 65.9 mph]
[Velo Wireless] Calorie consumption:

0 ~99999 kcal
[Velo Wireless] Total distance (Odometer):

0~99999 km [mile]
[Velo Wireless] Clock:

0:00~23:59 [1:00~12:59]
[Velo Wireless] Pace arrow:

Yes
[Velo Wireless] Auto power saving:

Yes
[Velo Wireless] Auto start/stop:

Yes
[Velo Wireless] Odometer manual set:

Yes
[Velo Wireless] Wireless transmission:

Speed [analog sensor]
[Velo Wireless] Tire size:

26", 700c, 27", 27.5", 29", 16", 18", 20", 22", 24" or 100cm〜299cm (default:26")
[Velo Wireless] Battery:

Computer: CR2032 x1 Sensor: CR2032 x1
[Velo Wireless] Battery life:

Computer:approx 1 year (1hr use per day) Sensor:approx 10,000 km [6,250 miles] in total distance
[Velo Wireless] Dimension:

55.5 X 37.0 X 16.5 mm
[Velo Wireless] Weight:

approx 26.4 g
[Velo Wireless] Water resistant:

IPX8